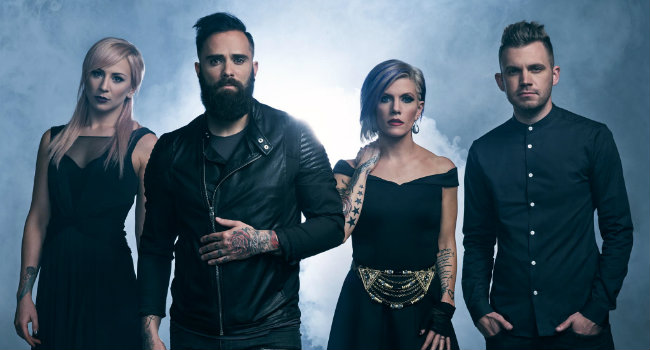 Skillet premieres "Breaking Free" video
Plus Wavorly's singer goes Christmas, Family Force 5's live event, and Beacon Light + Steven Malcolm = Salsa de Fuego….
---
Skillet recently premiered a new music video for their song "Breaking Free" from their Unleashed Beyond album that came out last month. You can check it out now on their YouTube channel.
---
Wavorly lead singer Dave Stovall has posted his version of the classic song "Mary, Did You Know" just in time for Christmas. You can link up to the video through radiou.com.
Mary Did You Know cover by Dave Stovall

Hey guys! I asked you what your all-time favorite Christmas song was and "Mary Did You Know" won by a LONG shot, so here's an early Christmas present for you! I hope you enjoy this video, and please share if you do! My prayer for you is that this Christmas will not be just another empty, commercialized holiday, but rather something deeper. Something more. The way me and my family are going about this Christmas season is by really focusing on Advent. Every week we are thinking about a different theme within the Jesus story, and it has never meant more to us than it does right now. I now see that Israel was eagerly waiting for a "promised one" to make things right for them as WE too are waiting for the return of that "promised one" to make things right again for us. I sincerely hope this song blesses you and stirs your heart towards God. MERRY CHRISTMAS EVERYONE!!

Posted by Dave Stovall on Monday, December 18, 2017
---
Family Force 5 just did a live event where they performed a couple Christmas songs and shared some of their favorite Christmas memories. You can find the video on their Facebook page.
https://www.facebook.com/ff5official/videos/10155353058809842
---
We also have a new video from Beacon Light and RadioU Fusion artist Steven Malcolm who recently released a visual for their collaboration "Salsa de Fuego." The video is up now on Beacon Light's YouTube channel.
---