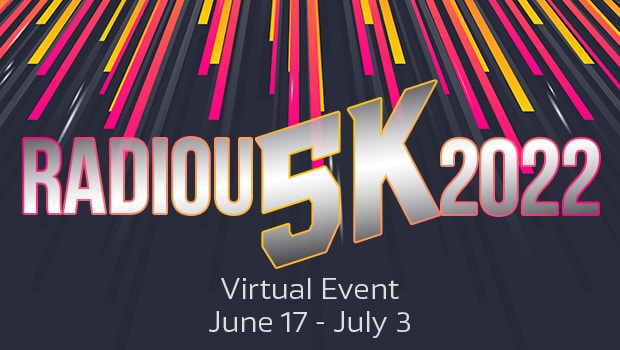 The RadioU Virtual 5K is here!
It's an opportunity to get exercise and support RadioU at the same time!
Complete your virtual 5K (3.1 miles) anywhere and anytime from June 17th through July 3rd. When you've completed your run or walk, you'll be able to post your results online.
We want you to wear your race shirts during your run and show off your commemorative medal when you finish, so we'll mail those items to you when you register. The first 300 registrants receive a RadioU 5K event shirt. Packets will be mailed starting June 6th.
All entry fees and proceeds from the RadioU Virtual 5K go directly to RadioU. RadioU is a non-profit organization and is funded completely by listener donations. RadioU doesn't have any commercial sponsors on-air and is kept running only by listener donations and fundraisers like this RadioU Virtual 5K!
    VIRTUAL RACE INFO + REGISTRATION
Registration: $35
Includes shipping for shirt and medal
(first 300 registrants)
NOTE: Sadly, due to continuing construction at the Westerville Sports Complex, RadioU's in-person 5K near Columbus, Ohio has been canceled.
The virtual RadioU 5K event continues as scheduled from June 17 through July 3.
If you have already registered for the in-person race, you will be offered your choice of continuing to participate virtually or a refund of your registration.
Near Columbus, Ohio?
The RadioU 5K has also returned as an in-person race!
Friday, June 17th · 7 PM
Westerville Sports Complex · Westerville, Ohio
    IN-PERSON INFO + REGISTRATION
Registration: $35
Includes official event shirt and medal
(first 300 registrants)
The RadioU 5K is organized in partnership with Greenswell Events, and would not happen without your support and the support of these great partners: