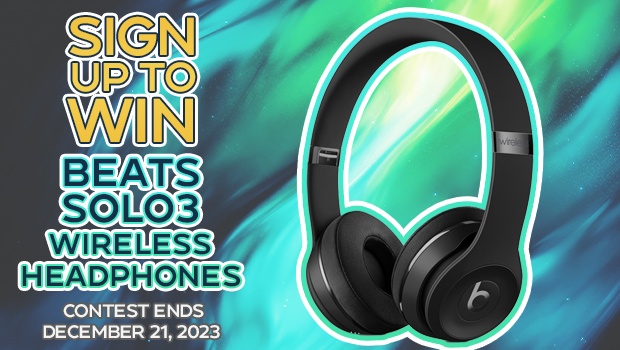 Enter now to WIN a pair of Beats Solo3 Wireless Headphones!
Up to 40 hours of battery life
Compatible with iOS and Android devices
Features the Apple W1 chip and Class 1 wireless Bluetooth connectivity
With Fast Fuel, 5 minutes of charging gives you 3 hours of playback when battery is low
Adjustable fit with comfort-cushioned ear cups
Streamlined design that's durable and foldable
Take calls, control your music, and more with multifunction on-ear controls
To win, all U need to do is sign up for our INSIDER email list! And you'll already feel like a winner once U start receiving your weekly updates on The RIOT's recent antics, music news from your favorite artists, and the latest headlines from around RadioU!
Hurry! This contest is set to close at 11:59 PM ET on December 21, 2023.
---
RadioU's Fall Giveaway Contest Rules
Prize description. One winner will receive a pair of Beats Solo3 Wireless Headphones. Total prize value is $199.95.
Eligibility. Entries will be accepted during the contest period, which begins Monday, October 2, 2023 at 6 AM ET and ends Thursday, December 21, 2023 at 11:59 PM ET. To be eligible, each entry must include the entrant's first and last name, email address, and zip or postal code. Entrants must be at least thirteen years of age. The winner must be a legal resident of and with a shipping address in the United States or Canada. Only one entry per valid email address per day and no more than ten entries per valid email address for the duration of the contest period will be eligible. Using any means to automate entry is prohibited. No purchase is required to enter or win, and a purchase will not increase the odds of winning, which will depend on the number of eligible entries received. No substitutions are allowed.
Means of entry. There are two ways to enter. 1.) By completing the online registration form and opting in during the contest period at radiou.com/win. 2.) By completing an alternate registration process and opting in during the contest period at certain RadioU-hosted events, which may include scanning a QR code, texting a specified keyword to a phone number or shortcode, or completing a paper entry form provided by RadioU at the event. Message and data rates may apply for text-based entries.
Drawing. A random drawing of a single winner from among all eligible entries received will occur Friday, December 22, 2023. The winner will be notified by email, telephone call, and/or text message and will be given five business days to respond to the notification with a complete shipping address, which will be required for prize fulfillment. If the winner is found to be ineligible, is unwilling or unable to accept the prize, or does not respond to the notification within five business days, a backup winner will be drawn from all eligible entries received, or RadioU may choose not to award the prize. RadioU is not responsible for any lost, delayed, misdirected, miscategorized, damaged, or unreceived entry, email, text message, telephone call, voicemail, or shipment.
Standard contest rules. These rules additionally incorporate the portions of Spirit Communications, Inc.'s Standard Contest Rules as written below.
Standard Contest Rules
By participating in any contest, the contestant agrees to obey all contest rules.
Prizes are non-exchangeable, non-negotiable, and non-transferable.
Inability of the winner to accept the prize will result in forfeiture.
Winner agrees to permit Spirit Communications, Inc. to use their name, likeness including photos and video, and voice without prior notice or compensation, for promotional purposes in broadcast, print, and electronic forms.
Winner agrees to be responsible for all applicable taxes and fees associated with any prize.
Winner agrees to accept any and all prizes "as-is," and to irrevocably and forever release, discharge, indemnify and hold harmless Spirit Communications, Inc., affiliated and/or related entities, as well as representatives, agents, employees, contractors, insurers, successors, assigns from and against; winner hereby irrevocably and forever waives any and all liability, claims, demands and actions, causes or actions, damages, injuries, cost expenses (including but not limited to medical costs and/or expenses), and any and all liabilities of any kind which the winner now has or hereafter will have against any or all of such entities/persons, arising or in any way relating to the winner's acceptance of prizes or in connection with any contest, no matter how they may be caused.
Spirit Communications, Inc.'s radio contests may be carried nationally on affiliate stations of RadioU, as well as online at RadioU's Website, through mobile devices, and other applications. Spirit Communications, Inc. is not responsible for phone service outages, delays, busy signals, equipment malfunctions, or any other technological difficulties that may prevent an individual from completing his/her telephone call or online entry.
From time to time, Spirit Communications, Inc. will air joint contests, possibly with unique contest names and/or multiple means of entry, on RadioU, RadioU TV, and/or their affiliated Websites.
Employees of Spirit Communications, Inc., any network affiliate, and their immediate families are not eligible to win. Employees of other broadcast stations (including radio and television) are not eligible to win.
Any ties, disputes, conflicts, questions, or concerns regarding any contest and/or the associated prize will be settled by the Spirit Communications, Inc. promotions department, whose decisions are final.
Contest/prizes are subject to federal, state, and local regulations and laws and are void where restricted or prohibited by law. No purchase, donation, or pledge is necessary.
Spirit Communications, Inc. retains the right to change the rules of any contest, which will become effective upon announcement and posting to this web page.