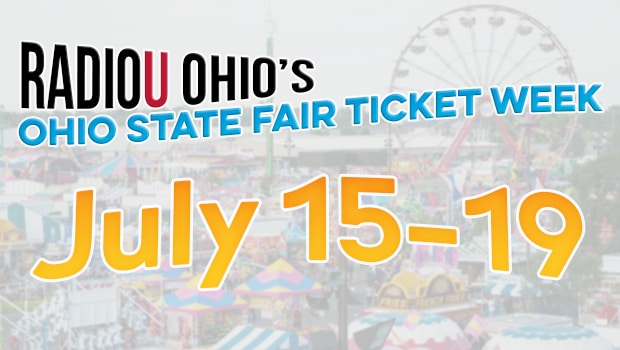 The Ohio State Fair has always been missing one crucial thing.
Sure, they had a butter cow, a midway, and fried everything — but they've never had RadioU's All Bluegrass Cover Band… UNTIL NOW. Listen all week for Hudson huckin', Nikki pickin', Sydney spittin', and Obadiah doing… whatever that is he's doing. When you hear our DJs doing their bluegrass covers be the 13th person to text "FAIR" to 877-2-RADIOU and you'll snag a pair of tickets to the Ohio State Fair.
Winners can go any day of the Fair they want between July 24 and August 4 but RadioU will be just inside the Cardinal Gate on August 1st. Feel free to stop by and bring us something deep fried and butter covered! We'll see you there!
---
Listen for your chance to win a pair of tickets to the Ohio State Fair!
The sender of the thirteenth text entry successfully received at 1-877-2-RADIOU (1-877-272-3468) containing the keyword "FAIR" each time the "DJs Sing a Bluegrass Cover Song" sounder is played from Monday, July 15, 2019 through Friday, July 19, 2019 will win a pair of tickets to the Ohio State Fair, redeemable for single-day admission July 24 through August 4, 2019. Each winner will be notified via text message from RadioU and will have thirty minutes to reply with their email address and information required for prize fulfillment. If the selected texter is found ineligible and/or does not reply to RadioU's award notification text within thirty minutes, the sender of the next eligible text entry will become the winner. Odds of winning depend on the number and order of texts received. If the requested number of texts isn't received within five minutes of the DJ's request, the sender of the final text entry received during that period will become the winner. The Ohio State Fair Ticket Week will air on RadioU's Ohio FM radio stations only and will not air on RadioU's mobile, online, Alexa, Roku, or TuneIn streams. Twenty-three pairs of tickets will be awarded. Prize value is approximately $20. No substitutions allowed. No purchase required for any prize, but message and data rates may apply. The full name of each winner will be shared with The Ohio State Fair. Prizes will be mailed via USPS; to be eligible, each winner must provide a valid USPS mailing address. RadioU is not responsible for misdirected, miscategorized, or unreceived mail or texts. These rules additionally incorporate Spirit Communications, Inc.'s Standard Contest Rules published here.