November 29th is #GivingTuesday – an international day of giving to bring nonprofits like RadioU and communities together to celebrate generosity and giving back!
$90

      one hour


   $7  

    one song
It costs $90 an hour to run RadioU, or about $7 for every song we play. Your impact starts with a $7 song, but it doesn't end there – your donation keeps the music playing and lives being changed!
Get a RadioU Christmas ornament!
Pay for an hour of RadioU by giving $90 (or $15/month) and we'll say "thanks!" by sending this shiny new RadioU Christmas ornament! It features "Merry Christmas" with RadioU's logo in red, green, and white on a black ornament.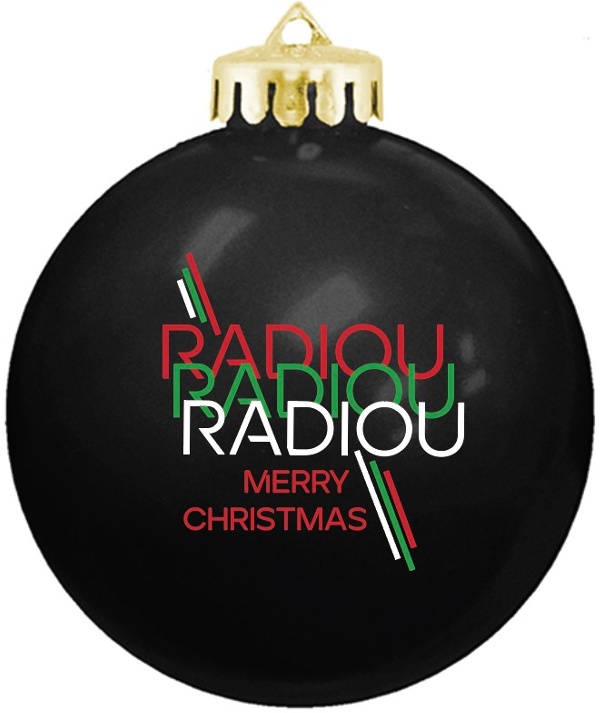 The
MUSIC




NO

commercials
The

MESSAGE
Listener loved.
Listener funded.
RadioU is FREE for everyone to listen, and
100% paid for by listeners

who donate.
RadioU is nonprofit and no commercials are allowed, so there's no corporate megamoney here –

YOU really are the "U"

in RadioU!
You have NO IDEA the impact the music you play has. Bands like twenty one pilots, Skillet, Fireflight, Greeley Estates, etc. RadioU songs talk about darkness and struggling, but God's presence in those things and power over those things. Just to hear others admit to struggling — if they can bring their mess before God, maybe I can, too. This music means more than you think. And not just the music, but the things you say have helped me. Just a few days ago I caught an Obadiah story about how God still wants to guide you in your life even after you've messed things up. I've seen unsaved Uber drivers react to spiritual things RadioU DJs have said. RadioU is a lifeline. Thank you.

- Jen listens to RadioU online near Cleveland, Ohio
    Contact Us 877-855-GIVE
RadioU · PO Box 1887 · Westerville, OH 43086

---

Your donation NOW will make a powerful difference…
---
RadioU's music is

powerful

and changes people's lives when you donate now!
Your music

+

ZERO commercials

+

donations

=

RadioU
Your donation of just $20 a month powers a day of your local RadioU FM station or stream, and we'll say "thanks" by sending you our RadioU fall fundraiser tee!
Or, support RadioU by joining The RIOT Club and we'll send you the long sleeve, lightweight hoodie as our way to say "thanks!"
RadioU is 100% listener funded. Just like you, our bills come every month which means monthly donations help out the most – but what you give is
totally up to you!  
Check out the Impact tab below to see all the ways your donation reaches real people who depend on RadioU's music and message to give them hope every day!